Granite Fleet Manager
Frequently Asked Questions
Q: I'm seeing the following error message: Security warning: Unsafe expressions are not blocked
This is happening due to Microsoft tightening up security in Access 2003. The following instructions will loosen up the security settings to what was in use in Access XP/2002 and earlier.
Click on File and then Security ..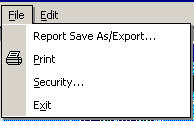 The click on the Low Security Level as the below screen capture indicates. However chances are this won't work. Try opening that screen again and Access will likely have silently not performed the change. In which case you will need to ask your IT department to log onto your system and perform this action.
The Access file that they will need to run is located in your Application Data Folder\Granite Fleet Manager folder and is the file called Granite Fleet Mgr.MDE.